Sunday Services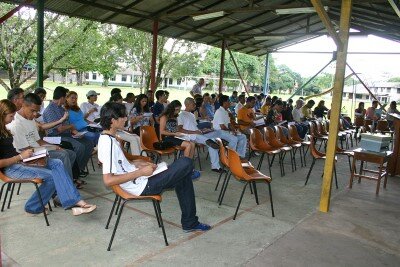 During the AVA academic year, the native English speaking faculty at AVA host a free Sunday afternoon EFL gathering each Sunday afternoon at 4:00 pm (16:00) in the covered area near the entrance to the campus at BR316, Km 2, 132 Tv. Tenri. (The dates are listed below.)
The gathering is centered on improving English pronunciation and the study of the Bible. It has a large group musical program, composed of learning and singing Christian praise songs, a listening program, composed of a message from the Work of God, and is followed by small group ESL classes, composed of reading, word definitions, and discussions in English of the theme for the day. This is an excellent opportunity to practice your English language skills with native English speakers and to grow in your knowledge of God.
Gatherings are held during the 1st Semester (mid August to mid December) and during the 2nd Semester (mid January to the first of June.) The first gathering in 2011-12 academic year will be on August 14, 2011.
Anyone interested in learning English or learning more about the Work of God is invited to come to the gathering. There is no cost to participants.
Get off the Bus at the Unama station and walk one block West to Tv. Tenri, turn South and AVA is the gate at the end of the street. The guard will direct you to the gathering.